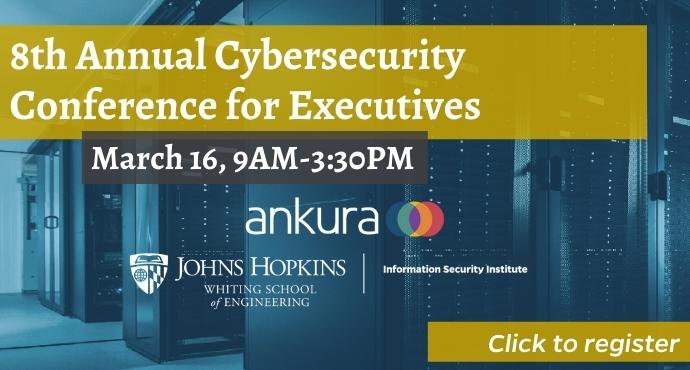 Thank you to all who attended the 8th Annual Cybersecurity Conference for Executives this year! If you were unable to attend the event, below we have hyperlinked each session's recording to the agenda topic for you to reference.  We hope to see you at next year's event!
CONFERENCE AGENDA
9:00-9:15 am EST
Opening Remarks | Robert Olsen & Anton Dahbura
9:15-10:00 am EST
Keynote Address: Trending Cyber Challenges for Today's Senior Executives | Doug Robinson
10:00-10:45 am EST
Crisis Management/Incident Response: Ransomware Example | Christopher Todd Doss
10:45-11:00 am EST
Break
11:00-11:45 am EST
Creating a Human Firewall | Joe Carrigan
11:45-12:45 pm EST
Lunch & Learn | Joe Saunders
12:45-1:45 pm EST
Emerging Threats in AI/Autonomous Systems/Machine Learning | Jim Bellingham
1:45-2:30 pm EST
Panel: The Future of Cyber Regulatory Compliance | Brian H. Montgomery & Colleen Yushchak
2:30-3:15 pm EST
Supply Chain Cyber Risk Management | Gregory Falco`
3:15-3:30 pm EST
Closing Remarks | Anton Dahbura
Stay tuned for information on the 2023 Cybersecurity Conference for Executives!