Johns Hopkins Information Security Institute Appoints Director of Advanced Research Projects
December 1, 2016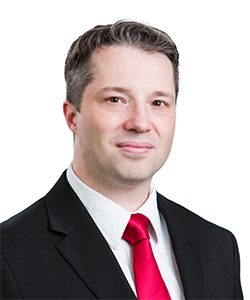 This fall, Johns Hopkins Information Security Institute (JHUISI) appointed Adjunct Associate Research Scientist Seth Nielson as Director of Advanced Research Projects.
"Seth brings to JHUISI the ideal combination of talents and experience to be able to focus on new opportunities in the information security space for JHUISI's faculty and research staff," said Anton Dahbura, Executive Director of JHUISI. "It's a natural transition for him and for us since he's been a part of us in the past and is a great fit for our culture."
In 2014, Nielson joined the JHUISI faculty as a lecturer who taught the network security course. In 2015, he was appointed adjunct associate research scientist. In his newly appointed position as director of advanced research projects, Nielson will support the Institute with its short and long term research goals.
"I am excited about this opportunity. We are still in the early phases of planning and strategizing, but we would like to develop some Institute level research projects," said Nielson. "We have individual faculty with outstanding projects, but we're looking to ultimately host research within the Institute that will foster synergy with multiple faculty, students, and external affiliates," said Nielson.
As Director of Advanced Research Projects, Nielson will serve as a liaison with corporate, government, and academic partners identifying areas of collaboration for emerging initiatives and research.
"There are countless opportunities for discovery and collaboration in the infosec arena," said Dahbura. "Seth's challenge will be to identify the projects and partners that are best fits for us to embark on our 'next big thing'."
Currently, Nielson is investigating certain aspects of how people generate passwords and, in particular, how well they generate "random" passwords when they are consciously trying to. His research interests include: computer security education, network security, and authentication. As adjunct associate research scientist, Nielson mentors several student capstone projects related to ransomware and identity management and teaches several JHUISI courses.
In Nielson's early career, he focused on software engineering as a discipline and worked for several years in start-up companies. He graduated with B.S. and M.S. degrees in Computer Science from Brigham Young University in 2000 and 2004 respectively. He received his Ph.D. from Rice University in 2010.